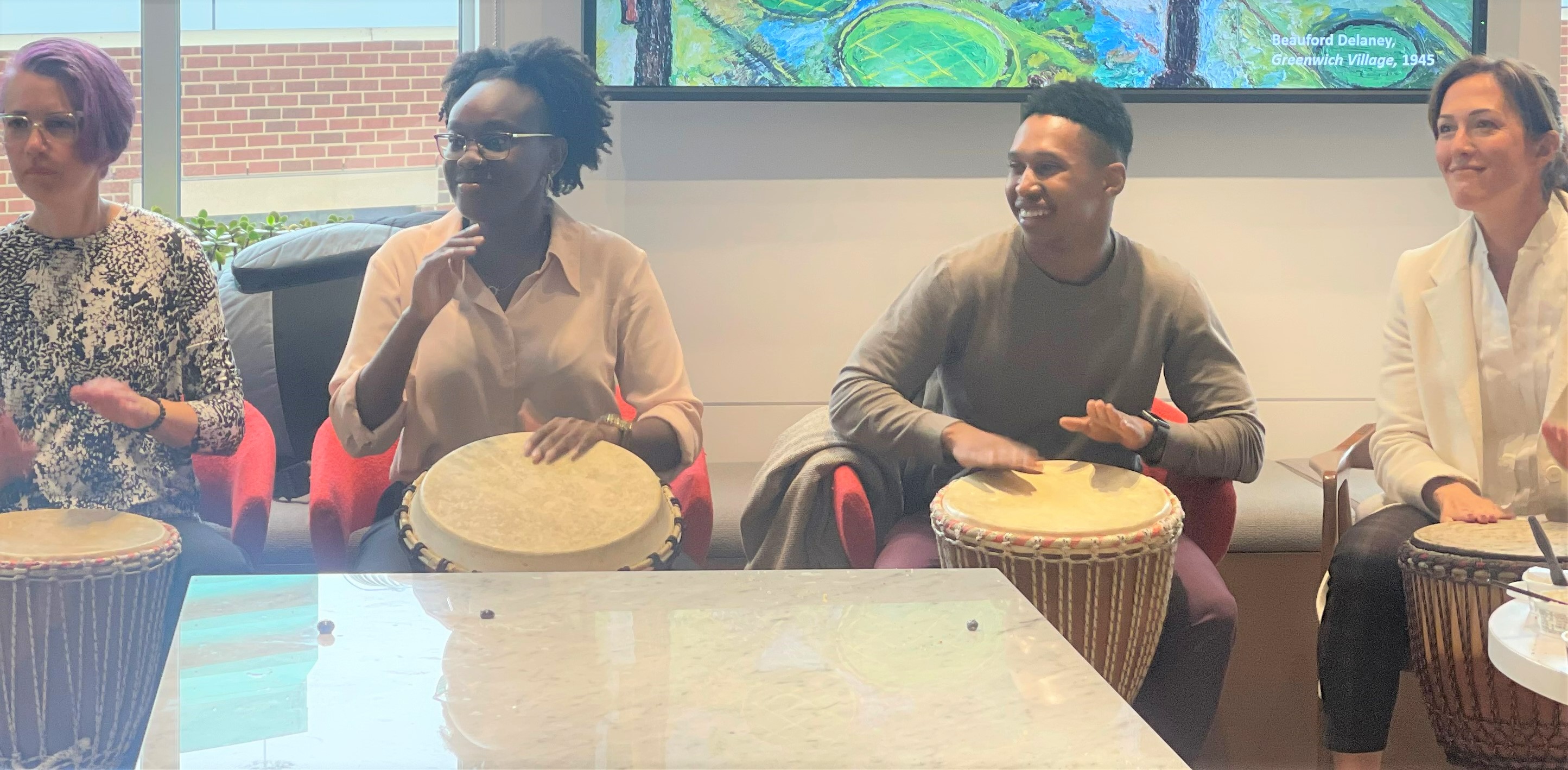 Drum Circles for Companies and Organizations
Ammaya Dance & Drum has given many lively team building events for companies and organizations. We also give drum circles for events which celebrate African-rooted cultures and diversity. Drumming is an activity that stimulates the magic and fun within people. The drums have a certain vibration that brings people together in solidarity. Not only is it a proven team builder, but many studies show how it reduces stress, anxiety and depression. In addition, drumming together sparks creativity and vision -- the rhythms are a powerful way for people to tap into their right brains and receptivity to new ideas. Drumming naturally uplifts people's hearts and brings our energy together in beautiful ways.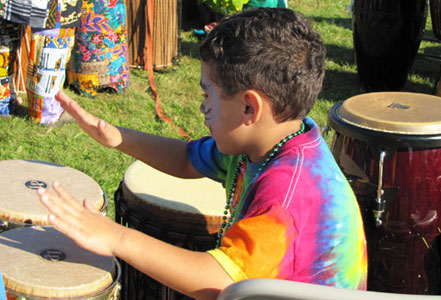 Drum Circles for People with Disabilities
Ammaya Dance & Drum offers creative and therapeutic dance and drum circles for people with disabilities. Drum circles are a popular activity with neurodiverse populations -- there is a high level of engagement and people are free to express themselves at any level. In the circles people jam out creatively, then drum with simple rhythm exercises together. People learn specific rhythms to the best of their ability, as well as invent rhythms of their own for the group to follow. It is a great time to release energy, lift spirits, connect with others, have fun, and learn how to drum in a supportive environment.

See video:
Dance & Drum for People with Disabilities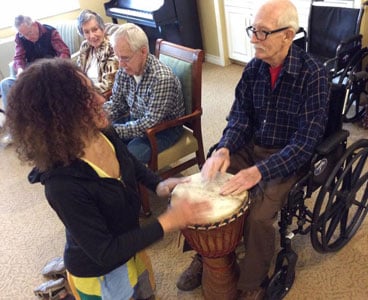 Drum Circles for Seniors:
Ammaya gives drum circles for active seniors, as well as seniors in memory care. Music and movement is often the medicine to inspire people with positive energy and renewed zest for life. These rhythmic sessions provide great therapeutic value and social group connection. It is a different kind of activity for seniors that is stimulating, energizing and fun, In addition, scientific studies show that the effects of regular group drumming can be as or more powerful than medications in alleviating anxiety and depression, as well as relieving pain and boosting the immune system. Group drumming boosts people's overall mood and spirits, providing easeful and healing social interaction.
See video:
Dance & Drum for Seniors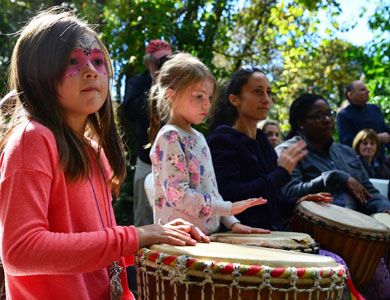 Drum Circles for Kids

Ammaya also gives many creative and educational African-inspired dance and drum circles for children of all ages, from preschool to high school. Our kids classes emphasize fun, creativity, self-expression and the joy of music and movement. We explore rhythms and let our energy out! Kids will strengthen their ability to hold a rhythm over time, as well as practice hand and stick drumming techniques on the djembe and dun dun drums. Students will also practice several West African rhythms and learn to play them together as an ensemble. We will explore the nuts and bolts of rhythm, as well as express our own rhythms creatively.

Drum Circles for:

Company and Organization Events



People with disabilities






"Thank you for yesterday! The individuals really enjoy your drum circle -- it's nice to see everyone so happy and engaged. You are also really good with them. We look forward to you coming again."
K.A.
"I really wanted to thank you for the work that you do with our members. You bring a really positive energy into the space and it is so appreciated."
E.G.
"Thank you very much for being there last night... Everyone had such a great time with you and drumming/dancing. I loved how everyone got to express themselves creatively with the activity -- I'm sure they will be talking about it for weeks. We do appreciate it!"
S.B.